European Consortium of Microbial Resources Centres – EMbaRC
Description
EMbaRC is an EU project funded under the Seventh Framework Programme, Research Infrastructures action (INFRA-2008-1.1.2.9: Biological Resources Centres (BRCs) for microorganisms). It aims to improve, coordinate and validate microbial resource centre (MRC) delivery to European and International researchers from both public and private sectors. To ensure harmonisation of the quality of MRCs, EMbaRC plans to take the current OECD best practice guidelines and emerging national standards for Biological Resource Centres (BRCs) to the international level. Outreach and training activities will ensure that all European collections can take advantage of the outputs of the consortium's work.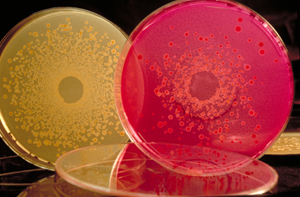 Cheese bacteria (c)INRA
The properties of microorganisms have been harnessed by man for thousands of years and their uses continue to expand in all sectors not just food and healthcare but in almost all areas of industry and environmental maintenance. Their authentication, characterisation, stable storage and supply are a major contribution to the knowledge-based bioeconomy. The EMbaRC project takes European collection networking to new heights of coordination and efficiency providing new services and better access for European users. The opportunity will be taken to work more closely with the users. A one-stop access to the collections of EMbaRC and the wider European BRC community via a searchable web portal building on the outcomes of the previous EU projects, CABRI and EBRCN, will be provided. Access and high-quality support and training to research teams are offered from the consortium partners via calls for access ; enabling users to work in the partner facilities accessing staff, resources and technologies. Research output will deliver new methods for strain and DNA preservation, novel techniques for identifying species and high through put screening for natural products. The networking elements create the European node of the OECD envisaged Global Biological Resource Centre Network.
EMbaRC will work very closely with organisations, International Projects and initiatives thus providing outreach and enabling co-ordination of mutual activities. This will ensure efficient common practical approaches are implemented in compliance with international standards and national policies and regulations. Creating an international operational framework that will improve the research tools for biotechnology.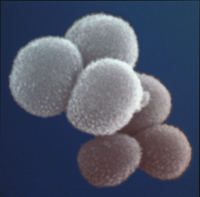 Staphylococcus (c)Institut Pasteur