Contribution towards encouraging debate on the benefits and risk of life sciences and biotechnology
Biological weapons are devices which disseminate disease-causing organisms or poisons to kill or harm humans, animals or plants. Almost any disease-causing (such as bacteria, viruses, fungi, prions or rickettsiae) or toxin-producing micro-organism (poisons derived from organisms, or produced in response to micro-organisms) can be used in biological weapons.
There are many different disease-causing organisms that are potential candidates for biological weapons. On the other hand, many of these organisms are extremely important for research and development in the domains of medicine, biology and agriculture. These organisms can therefore be used for two purposes. The term used by the international community for these types of organism is `dual use'.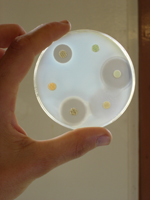 Antibiogram (c)INRA
National and international bodies (e.g. the States Parties to the BTWC) have formulated the necessity to come to a code of conduct on biosecurity. Up to now, only three of those countries (Albania, France, and the Netherlands), have started drafting a national code of conduct on biosecurity. However, for example OECD has seen the necessity that especially BRC's as guardians of many potentially dual use strains should have at least common minimum guidelines. EMbaRC is capable of drafting a code of conduct and discuss them on various fora to make them accepted, at least at the European level.
Thus EMbaRC in developing a Code of Conduct for Biosecurity for European Microbial Biological Resource Collections will prevent Microbial Biological Resource Collections (BRC's) from directly or indirectly contributing to the development, production or preservation of biological weapons, as described in the Biological and Toxin Weapons Convention (BTWC), or to any other misuse of biological material or derivatives.
The contribution of EMbaRC will play a key role not only raising awareness of the need for such a Code for conduct for BRC and via its training and outreach activities it is expected that the Code will be adopted by the smaller EU collections to enable a harmonised level of protection throughout all European BRCs.