Development of a common approach and plan to self-sustainability further to a mapping of current governance, IPR and costing policies of the BRCs
End users (researchers, SMEs and large industrials) will be provided with a coherent and consistent service no matter which BRC they approach in terms of the quality of the resources provided, the procedures for strain deposit and preservation and IPR policies.

Collections and users will benefit from the EMbaRC know–how and be involved in the development of a self-sustainable plan for BRCs to ensure their future existence.

Collections will benefit from the research outcomes:
To improve current preservation protocols to increase recovery rates and extend the shelf-life of preserved material for which conventional methods give low results

To develop harmonized techniques for DNA banks of cultured and as yet uncultured microbes and a method for long-term genomic DNA storage from authenticated biological materials

To improve current approaches and develop new approaches in the classification and identification of microorganisms, more precisely :

develop new molecular markers for procaryotic and eucaryotic species identification

develop MALDI TOF for prokaryotic species identification

create database for eukaryotic species

develop high throughput methods to select new phylogenetic tools for the future, for bacteria and filamentous fungi
At a wider societal level EMbaRC will allow countries to improve the quality of their biological resources. It will contribute to economic development by increasing the chances of harmonious and protected exchange of increasingly essential resources for the future development of biotechnologiy to enhance quality of life and ensure scientific advancement to underpin the developing bioeconomy. It will network a critical mass of BRCs and oversee the transition of candidates that together will facilitate global access to Europe's ex situ biological resources enabling high quality research and development. A closer link to the users will be established to identify and deliver improved service and delivery. Supported by the World Federation for Culture Collections from the beginning the initiative will take the networking of collections to a new level.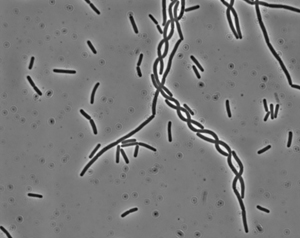 Bacillus subtilis (mutant) (c)INRA