Contribution towards building a Global BRC Network
Biological Resource Centres (BRCs) are considered as the next generation of culture collections and genetic resource banks. In an era of globalisation, the OECD BRC initiative to establish the virtual infrastructure Global Biological Resource Centre Network (GBRCN) is timely and fosters collections to meet the high quality operational standards required today. No one single collection can provide the needs of the life sciences and biotechnology, a collaborative approach is necessary. A global network is needed to improve efficiency by co-ordinating and driving activities to meet user needs. The BRC was defined, a Global Network envisaged and a capacity building programme identified to ensure the functionality of the network and the transition of traditional culture collections to BRCs. The EMbaRC consortium will collaborate with the GBRCN Demonstration Project Secretariat to provide its European node and help it deliver some of its key outputs.
The task of maintaining biodiversity must be shared. There are vast numbers still to be discovered the majority of which are not yet culturable. It is essential that the biological material associated with published data be stored for future use and confirmation of results. This project will strive to implement a co-ordinated strategy for deposit of such material.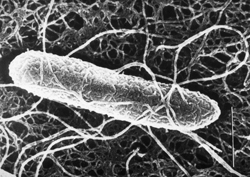 Escherichia coli (c)INRA